Are you Join Pak Army as Commissioned Officers? If yes, then this is a great place for you because on this page we will discuss the Pak Army Jobs Complete Details & Step by Step Registration method. Which was announced on the official website of the Pakistan Army (www.joinpakarmy.gov.pk) on 10 October 2023.
Applicants should apply for these vacancies between 10th October 2023 and 17 November 2023. We will not consider applications that were submitted after the last date.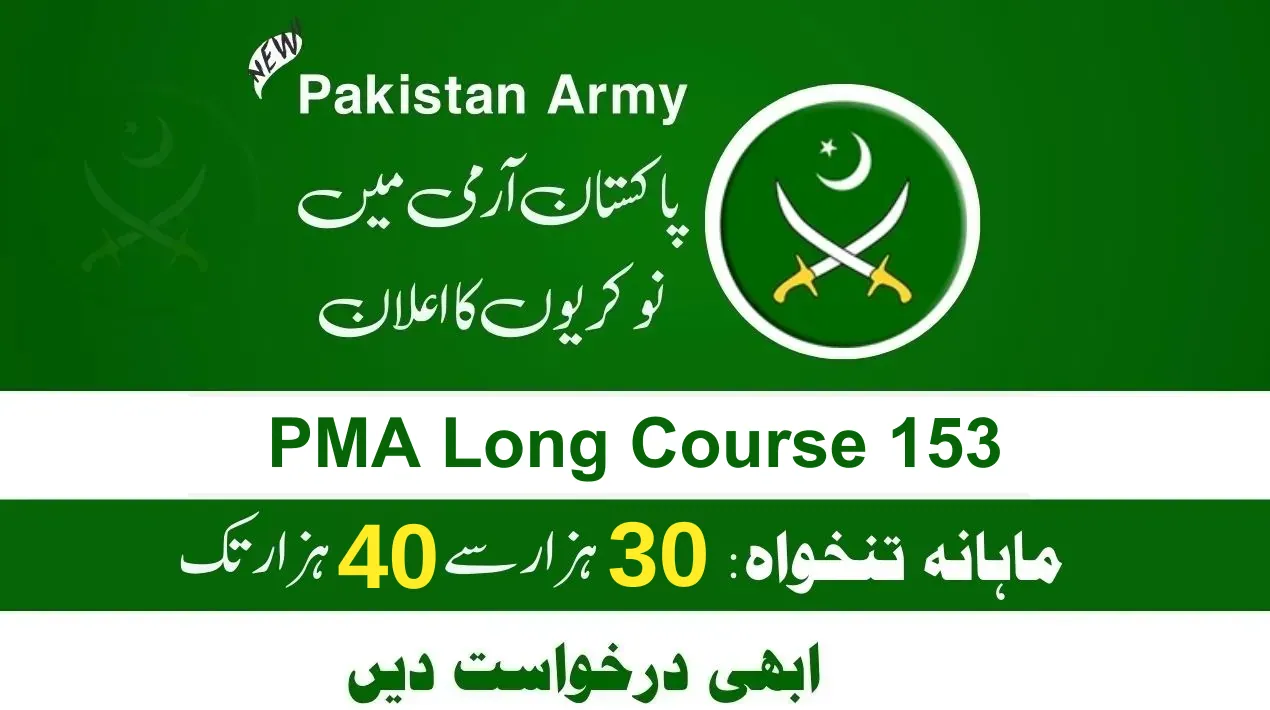 Join Pak Army Jobs at www joinpakarmy gov pk 2023
| | |
| --- | --- |
| Updated On: | 14th November 2023 |
| Organization: | Pakistan Army |
| Regions: | Punjab, Sindh, Balochistan, KPK, AJK |
| Employment Type: | Full Time |
| Offered Salary: | PKR, 30,000 – 40,000.est |
| Cities: | Peshawar, Quetta, Multan, DI Khan, Faisalabad, Hyderabad, Muzaffarabad, Mandi Bahauddin, Lahore, Karachi, Rawalpindi |
| Vacancies: | 500+ |
| Last Date: | 17th November 2023 |
| Address: | Nearest Army Selection and Recruitment Centres |
More Armed Forces Jobs 2023:
Eligible candidates can apply for the following vacant position:
Required Qualification, and Experience
Education Required:
Intermediate, Graduation
Experience Required:
Minimum: 0 Years Required
Maximum: 1 Year Required (Estimated)
Skills Required:
Physically Fit
Nationality:
Only Pakistani citizens domiciled are eligible to apply.
Marital Status:
Candidates who are fresh and unmarried are eligible to apply. However, even if they are married, serving personnel of the Armed Forces who are over 20 years of age can also apply.
Physical Requirements
| | |
| --- | --- |
| Gender Required: | Only Male candidates are eligible. |
| Weight Required: | Your weight eligibility is determined based on your Body Mass Index (BMI). |
| Minimum Height: | Each candidate must have a minimum height of 5 feet 4 inches, which is equivalent to 162.5 CM. |
| Visual Standard: | Candidates should have at least 6/9 vision with glasses for distance and J2 or N8 for near vision, with or without glasses, to meet the vision requirements. |
Body Mass Index (BMI) Calculator Online for Men & Women | Jobss.pk
BMI Calculator
Selection Criteria for Pak Army Jobs:
In the selection process, candidates go through several steps:
Written/Intelligence Tests: Candidates take a written test with multiple-choice questions covering subjects like English, Maths, Pak Studies, Islamiat, and General Knowledge.
Physical/Medical Tests and Interviews: Those who pass the written/intelligence tests proceed to physical and medical tests, as well as interviews at AS&RCs (Army Selection and Recruitment Centers).
Physical Test: Candidates must complete the following tasks:
Run 1.6 kilometers in 8 minutes.
Perform 15 push-ups in 2 minutes.
Do 20 sit-ups in 2 minutes.
Complete 3 chin-ups in 2 minutes.
Cross a ditch that measures 7 feet 4 inches by 7 feet 4 inches and is 4 feet deep.
Psychological Assessment: Successful candidates from the physical test undergo a psychological assessment test.
Final Interview: Qualified candidates appear for a final interview in front of the selection board at AS&RC.
Salary Package:
As per our estimate and research candidates can be given a minimum salary of 30,000 (PKR) and a maximum of 40,000 (PKR).
How to Join the Pak Army?
Interested candidates who complete the above "Required Qualification, Experience, Education & Age Limit " then you need to follow below step-by-step guide below.
Step 1:
Go to Google and search "Join Pak Army" or press the "Apply Now" button below.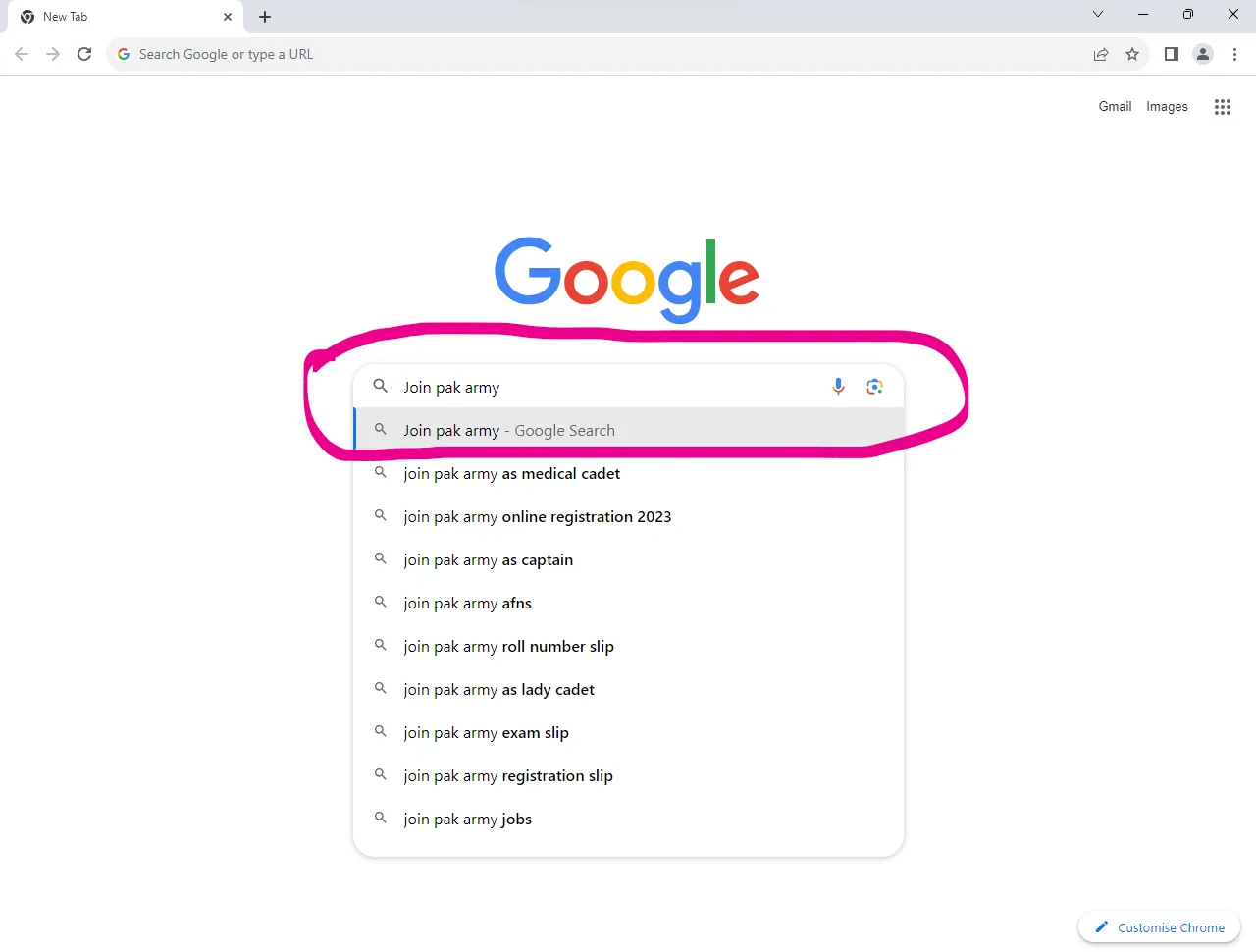 Step 2:
In this step, open the official website of the Pakistan Army.
اس مرحلے میں، موقع پاکستان آرمی کی آفیشل ویب سائٹ کھولیں اور اس میں اپنے آپکو رجسٹر کریں.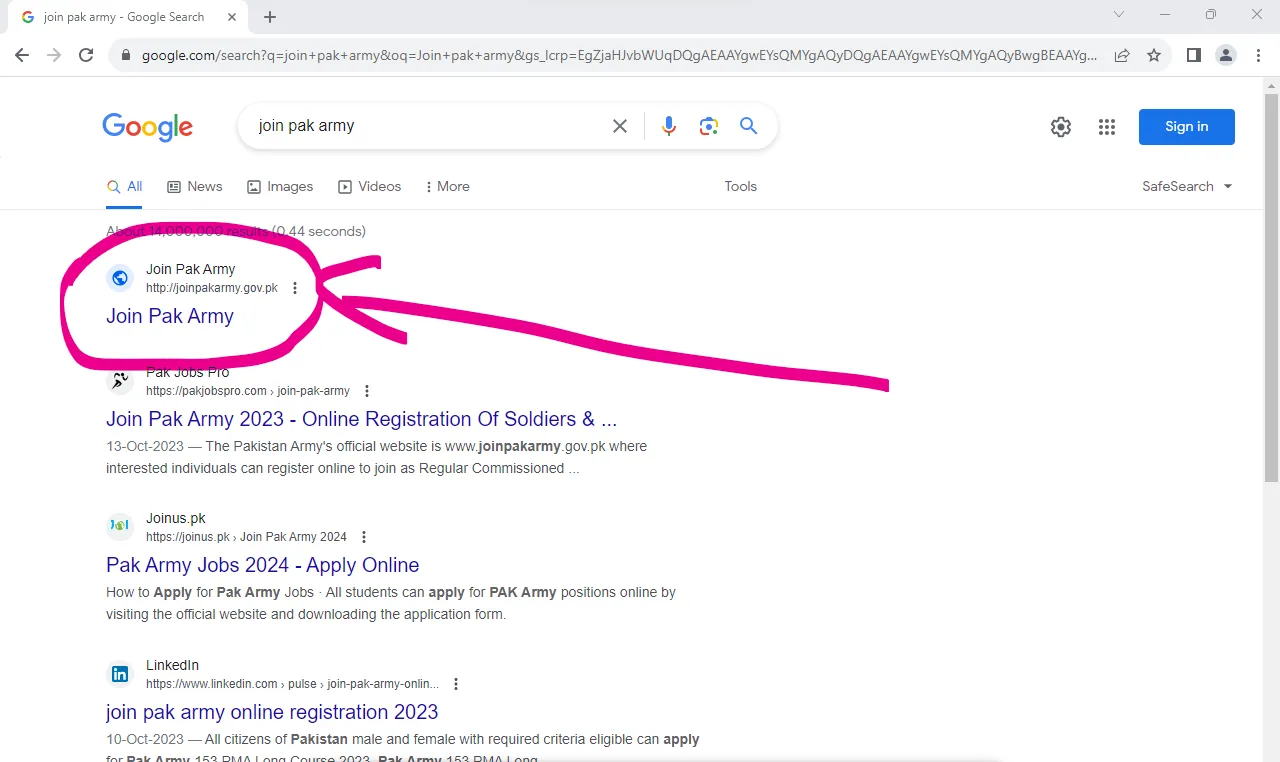 Step 3:
In this step, click on the "Apply Now" button.
اس مرحلے میں، "اب اپلائی کریں" کے بٹن پر کلک کریں۔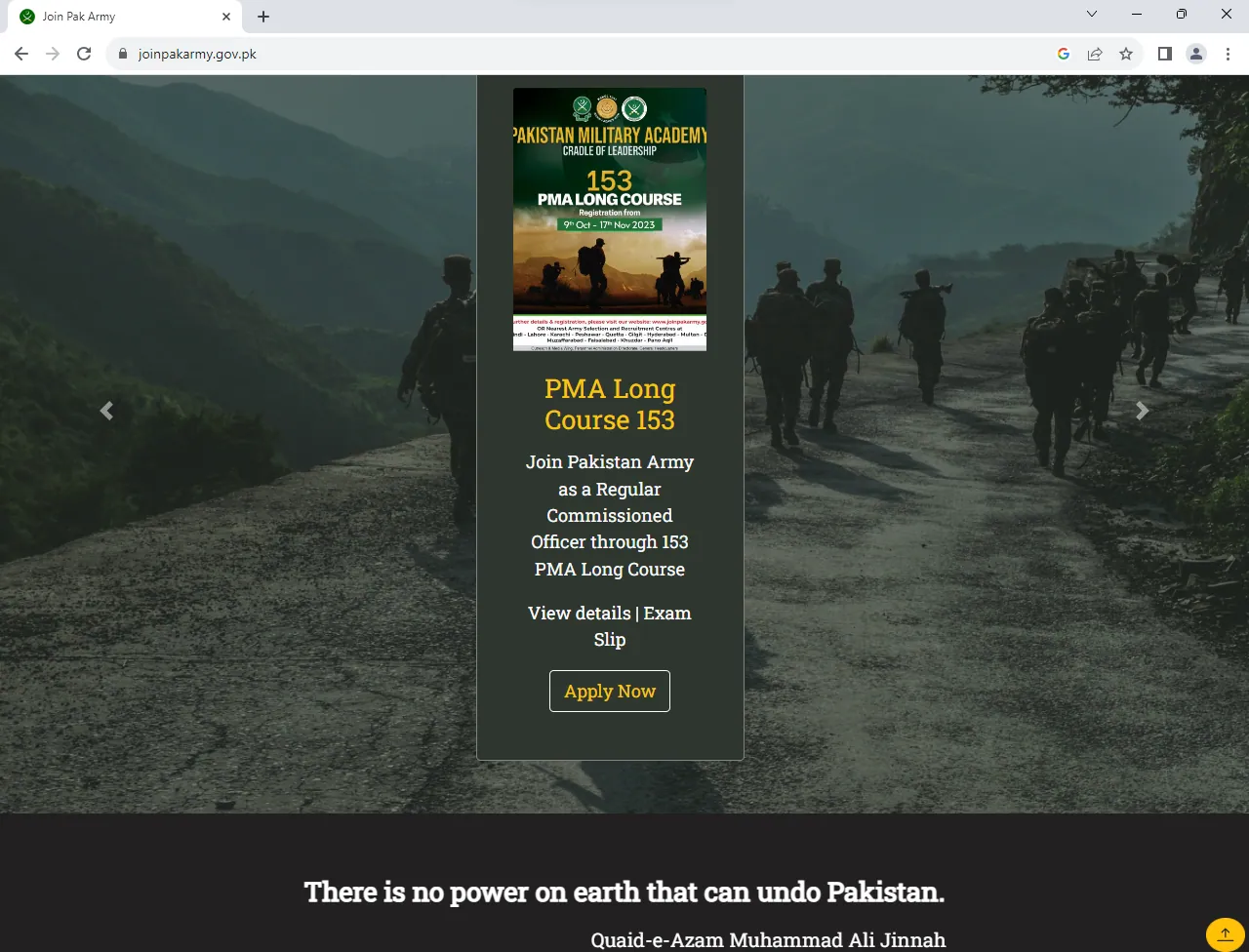 Step 4:
Now you have to Fill up all these details and Press "Next". So you have to fill up all these steps and then you will successfully join the Pakistan Army
اب آپ کو ان تمام تفصیلات کو پُر کرنا ہوگا. لہٰذا آپ کو ان تمام مراحل کو پُر کرنا ہوگا اور پھر آپ کامیابی سے پاک فوج میں شامل ہوجائیں گے۔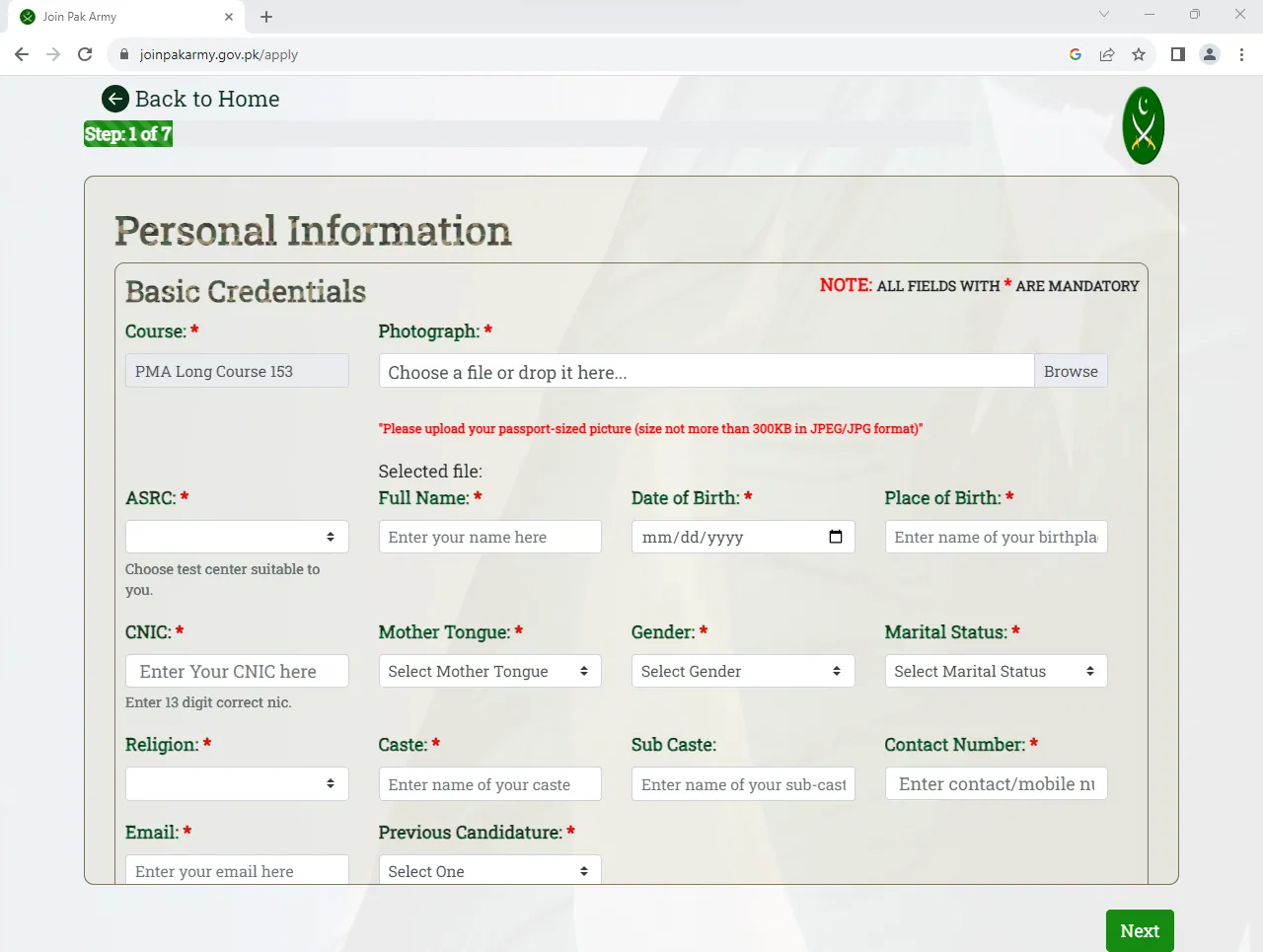 Interested candidates can also register by visiting the nearest AS&RCs (Army Selection and Recruitment Centers) located in every major city of Pakistan.
Army Selection and Recruitment Centers (AS&RCs) are located in the following cities of Pakistan.
Multan
DI Khan
Muzaffarabad
Faisalabad
Khuzdar
Pano Aqil
Rawalpindi
Lahore
Karachi
Peshawar
Quetta
Gilgit
Hyderabad
Terms and Conditions
Those who are already in government service should apply through the proper channels.
Only shortlisted candidates will be called for a test/interview.
Candidates should bring original documents at the time of the interview.
Registration Date:
The Pak Army Jobs Registration will start from 09 Oct 2023 to 17 Nov 2023.
Pak Army Jobs Advertisement
---
Get the latest Pak Army Jobs 2023 – www.joinpakarmy.gov.pk Also know about Pakistan Army Selection Criteria, Qualification, Education, and Age Limit Requirements at this Jobs Portal Jobss.pk. Pakistan Army is the largest branch of the Pakistan Armed Forces, responsible for defending the country's territorial integrity and national security.
Latest Pak Army Jobs 2023
---
---
The Pakistan Army is the principal land warfare branch of the Pakistan Armed Forces. It is responsible for the defense of the country and its territorial integrity, as well as providing security and support during internal and external conflicts. The Army is made up of highly trained and dedicated soldiers who are equipped with the latest technology and weapons.
The benefits of the Join Pak Army
House offices
Splendid Future
Development openings
Rebate on voyaging
Impeccable Income
Different Special Allowance
Social insurance Benefits
Youngster Education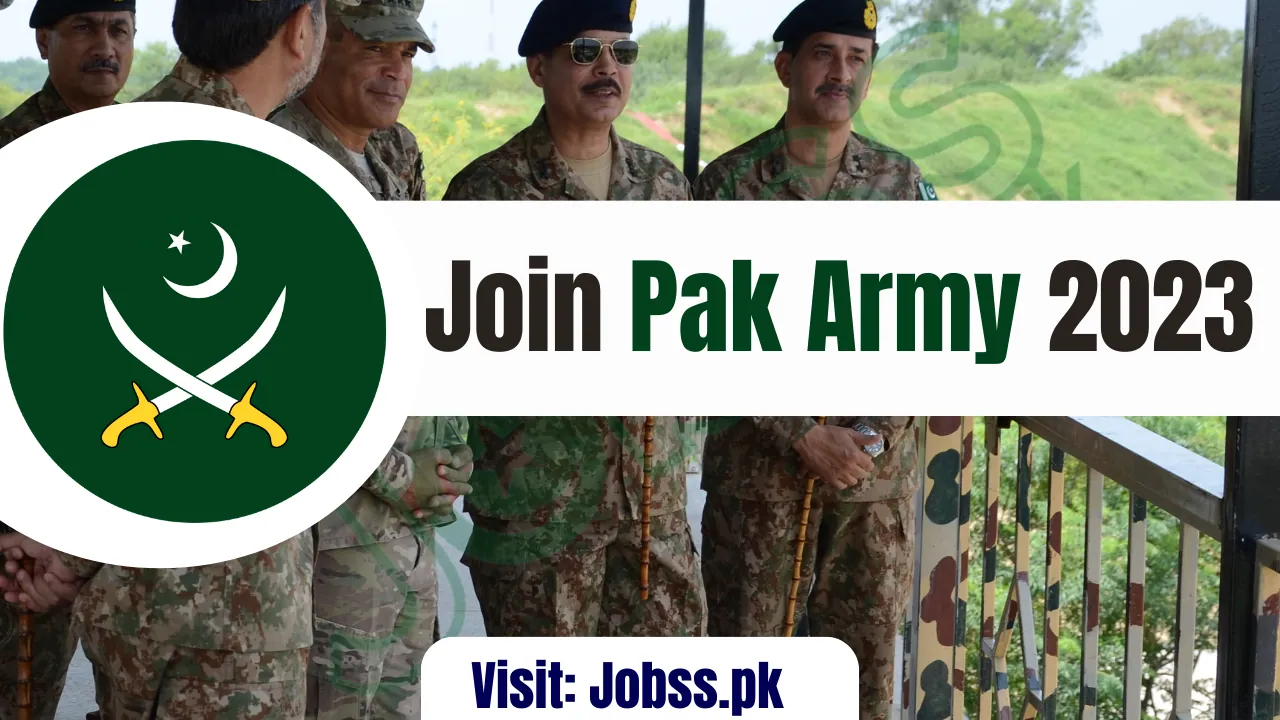 What is the PMA Long Course?
The PMA Long Course is a two-year training program for regular commission officers in the Pakistan Army. It takes place at the Pakistan Military Academy (PMA) in Kakul, KPK.
The PMA Long Course is designed to impart military skills and knowledge to cadets that make them more effective for the Pakistan Army. The course covers a wide range of subjects given below.
The PMA Long Course covers the following areas of training:
Learning military tactics and strategy.
Training in handling weapons.
Building physical fitness through exercises and training.
Developing leadership skills and teamwork.
Studying academic subjects like English, Mathematics, Science, and History.
FAQ (Frequently Asked Questions) by Pak Army Jobs
How can we join PMA?
To join PMA (Philippine Military Academy), you must pass the PMA Entrance Examination and meet the qualifications set by the academy. The applicant must also undergo a series of physical, medical, and psychological examinations, as well as an interview and background check.
How can I join Army after FSc?
Pass the ISSB (Inter-Services Selection Board) test and medical examination.
Meet the eligibility criteria for joining the Army.
Apply for recruitment through the Pakistan Army website or at an Army selection center.
How can I join Army 2023 in Pakistan?
Meet the eligibility criteria (age, education, physical fitness, etc.)
Register for the ISSB (Initial Screening Selection Board) test and pass it.
Appear for the medical examination and pass it.
Attend the training program and complete it successfully.
Take the oath of allegiance and officially become a member of the Pak Army.
Can I join army after 12th?
Yes, you can join the army after completing 12th grade.
Can I join the Army for 3 years?
Yes, you can join the Army for 3 years through the Active Duty 3-Year Enlistment program.
Is 10th pass apply for army?
Yes, 10th-pass individuals can apply for the Pakistan army.
How long is Pak Army training?
The duration of Pak Army training varies depending on the specific training program and role, but generally ranges from 6 to 12 months.
What is the age limit for PMA in Pakistan?
The age limit for PMA (Pakistan Military Academy) in Pakistan is 16.5 to 21 years.
What is the ISSB test?
The ISSB test is a psychological and intelligence assessment test used by the Pakistan Armed Forces to evaluate and select candidates for military training and service. It includes various components such as interviews, group tasks, and personality tests to assess the candidate's mental and physical abilities, leadership skills, and overall suitability for military service.
What is the last date for Pak Army Registration 2023?
The last date for Pak Army Registration is 17th November 2023.
What is the pattern of PMA test?
The examination will be divided into two sections, namely the Intelligence Test. It will comprise 85-100 questions each from Verbal intelligence and Non-verbal intelligence. You will be given a time limit of 30 minutes for each section.
What is the minimum marks for PMA long course?
Candidates who have cleared the Part-1 intermediate examination with a minimum of 55% marks and are either appearing or have appeared in the supplementary examination of the Part-2 final examination.
Can a female apply for a PMA Long Course?
No, females are not eligible to apply for the PMA Long Course in the Pakistan Army.
What is the rank after PMA Long Course 153 in Pakistan?
After completing the PMA Long Course, cadets are commissioned as Second Lieutenants.
Learn more about the Pakistan Army: