Get Our daily updates on Jobs in Peshawar from the Federal Government of Pakistan, Public Sector Companies, and Top Multinational Companies. Here are published government & private jobs in Peshawar as well as internship opportunities with Pakistani national domiciles, NGOs, multinational companies, and large companies in both the private sectors and Government sectors.
Govt & Private Jobs in Peshawar 2023
Industries in Peshawar 2023
Peshawar is home to a wide range of industries, including agriculture, manufacturing, and services. The city is also a major center for trade and commerce, with many businesses operating in the retail and wholesale sectors. Following are some of the major industries in Peshawar where jobs are available.
Agriculture: Peshawar is located in an agriculturally rich region, and many jobs are available in this sector. These include agriculture, irrigation, and research and development positions.
Manufacturing: The city is home to a number of manufacturing facilities, including textile mills and food processing plants. Jobs in manufacturing include production, quality control, and maintenance positions.
Services: The services sector is a major contributor to Peshawar's economy, with many jobs available in sectors such as finance, healthcare, and education.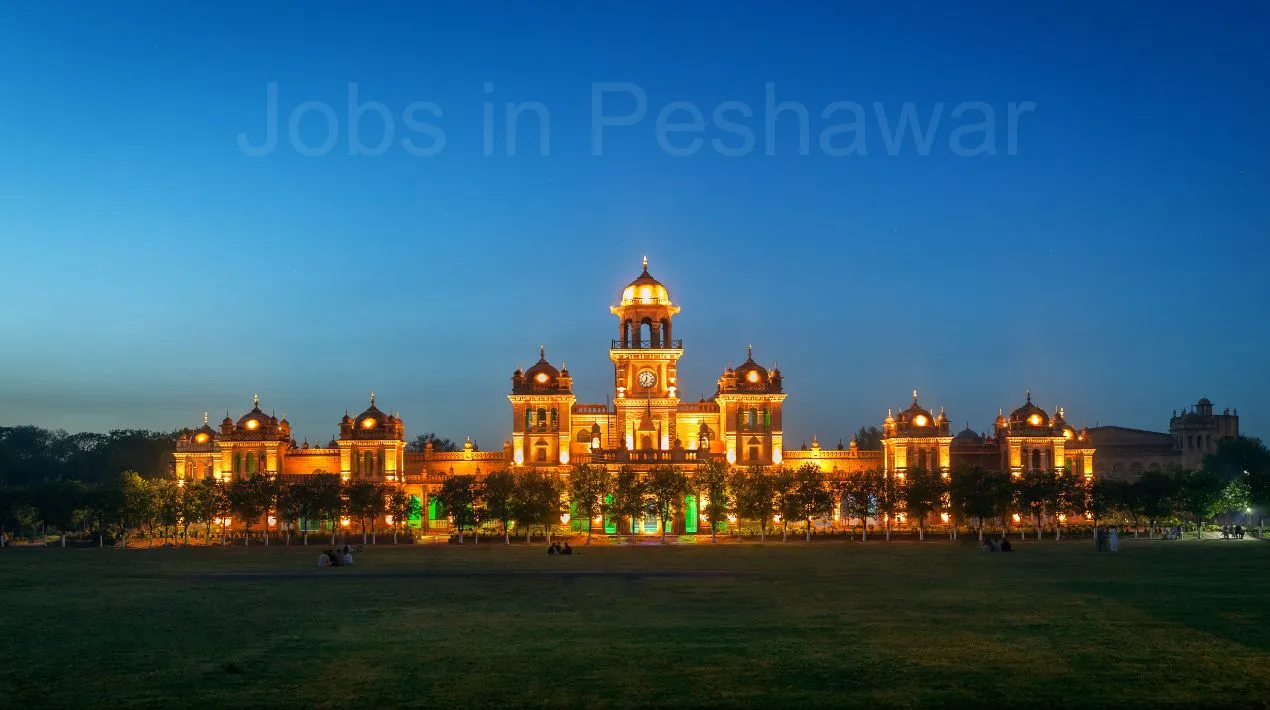 Following are some popular job titles in Peshawar:
Agricultural Engineer
Industry Engineer
Quality Control Manager
Retail Sales Associate
Marketing Coordinator
Education and training
Peshawar is home to many educational institutions including universities, colleges, and vocational schools. These institutions offer a wide range of programs, including engineering, business, and health care. Many jobs in Peshawar require specific education and training, so it's important to have the right qualifications for the position you're applying for.
Peshawar
Peshawar, the capital of Khyber Pakhtunkhwa, is a bustling city that is home to a diverse population. The city is known for its rich cultural heritage and history and is also a center of business and industry. As a result, there are many jobs available for people looking for work in Peshawar.
Govt & Private Jobs in Peshawar by Top Organization
Why Peshawar is the best place for jobs in Pakistan?
Peshawar is a city in Pakistan that is known for its economic growth, high standard of living, political stability, the opportunity for career advancement, and cultural attractions. These factors contribute to the city's attractiveness as a place for jobs in Pakistan.
As a hub of economic activity, Peshawar offers job opportunities in a variety of fields. The city is well-developed, with access to amenities such as healthcare, education, and recreational facilities, which can provide a high standard of living for its residents.
Additionally, as the capital city of the province of Khyber Pakhtunkhwa, it is considered to be a stable and secure place to live and work.
Many government and private sector organizations are headquartered in Peshawar, providing opportunities for career advancement.
The city is also home to many cultural attractions such as museums, art galleries, and historical sites, making it an interesting and enjoyable place to live and work.
It is important to note that job opportunities can vary depending on individual circumstances and the specific field of work. However, overall, Peshawar is a strong choice for those seeking job opportunities in Pakistan.
See More Jobs by Province in Pakistan
Punjab Jobs • Sindh Jobs • KPK Jobs • Balochistan Jobs
Qualification & Education Requirement for Jobs in Peshawar
Qualification and education are important factors in determining job eligibility in Peshawar.
Education Required:
In most cases, a high school diploma or equivalent is required for entry-level positions.
Skills Required:
For skilled jobs, such as those in the IT or engineering fields, a bachelor's degree or higher is typically required.
Experience Required:
Many employers also prefer candidates with relevant work experience in their desired field.
Additionally, certain jobs may require specific certifications or licenses, such as in the medical or legal fields.
Language Required:
Strong language skills, particularly in English, are also highly valued by employers.
It is important for job seekers to research and meet the specific qualifications and education requirements for the positions they are applying for.
Additionally, continuing education and professional development opportunities can help individuals advance in their careers and meet the changing demands of the job market.
Overall, having a strong educational and professional background can increase job opportunities and potential for advancement in Peshawar.
Whether you are just starting your career or looking to make a change, being aware of and meeting the qualifications and education requirements for your desired job can greatly increase your chances of success.
How to Apply to Jobs in Peshawar 2023
We will provide a complete guide on how to apply for jobs in Peshawar, including tips and tricks to help you stand out from the competition.
Step 1: Research job opportunities
The first step in applying for jobs in Peshawar is to research the job market and identify the types of jobs that you are interested in. You can start by searching for jobs online through job portals such as Jobss.pk and LinkedIn. You can also check local newspapers, such as the Daily Aaj and The News, for job listings.
Step 2: Tailor your resume and cover letter
When applying for jobs in Peshawar, it is essential to tailor your resume and cover letter to the specific job and company you are applying to. This means highlighting your relevant skills, qualifications, and experience in relation to the job requirements. You should also ensure that your resume and cover letter are free of errors and easy to read.
Step 3: Prepare for the interview
Once you have submitted your application, it is likely that you will be invited for an interview. It is essential to prepare for the interview by researching the company, reviewing the job requirements, and practicing your answers to common interview questions. You should also dress professionally and arrive on time for the interview.
Step 3: Network
Networking is an essential aspect of job searching, and it can be particularly helpful when applying for jobs in Peshawar. You can network with people in your field, such as alumni from your university or college, or professionals who work in the industry you are interested in. You can also attend networking events and job fairs to meet with potential employers and learn about new job opportunities.
Pro Tips
After the interview, it is essential to follow up with the employer to express your interest in the job and thank them for their time. You can do this by sending a thank-you note or email, or by calling to inquire about the status of your application.
Check about Info for Peshawar on Wikipedia
Join Us on our Social Media for More Get Jobs Updates:
WhatsApp | Twitter | Linkedin | Youtube