Join PAF 2023 as an Officer, Engineer, and Pilot. We are collected for this PAF Jobs from the Official Website. Pakistan Air Force (PAF) is currently hiring Applicants for hardworking, well-disciplined, and educated.
Pakistan Air Force Jobs are available on the Pakistan Air Force website www.joinpaf.gov.pk. You can Join PAF after Matric, Bachelor's, education.
Applicants from any area of Pakistan can apply for this PAF job opportunity. Interested Applicants should apply for these vacancies between 16 July 2023 and 19 Aug 2023. If you want to know more detail then you can stay on this page.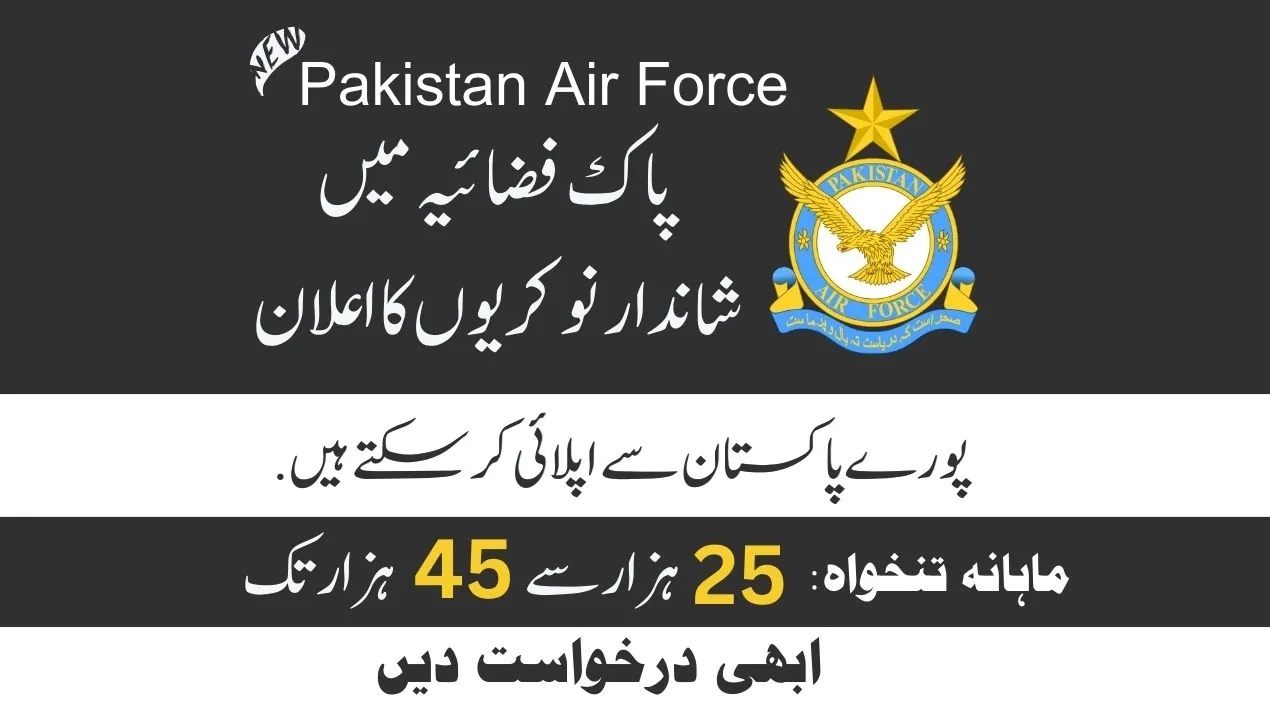 Join PAF Jobs 2023 Apply Online 2023 Registration Form
| | |
| --- | --- |
| Updated On: | 05th December 2023 |
| Organization: | Pakistan Air Force PAF |
| Region: | Punjab, Sindh, Balochistan, KPK, AJK, Gilgit-Baltistan |
| Cities: | Gujranwala, Mardan, Quetta, Bahawalpur, Multan, Lahore, Karachi, Islamabad, Peshawar, Rawalpindi, and more all Pakistan |
| Vacancies: | Multiple |
| Salary Package: | PKR, 25000 – 45000. Est |
| Designations: | Engineer, Officer, Technician |
| Last Date: | 19th August 2023 |
About PAF
The Pakistan Air Force (PAF) is the aerial warfare branch of the Pakistan Armed Forces. Established in 1947, the PAF has played a significant role in defending Pakistan's airspace and participating in military operations. The PAF operates a wide range of aircraft, including fighter jets, transport planes, and helicopters. The PAF has a strong reputation for its professionalism and has achieved several notable victories in its history. The force continues to modernize and upgrade its capabilities, including acquiring new aircraft and equipment, to ensure the defense of Pakistan's airspace.
More Armed Forces Jobs 2023:
Vacant Positions
Admin Officer
IT Specialist
Aircraft Technician
Logistics Officer
Pilot
Engineer
Air Traffic Controller
Pakistan Air Force PAF Jobs Eligibility criteria
Gender Required:
Both males and females are eligible.
Skills Required:
Computer Basics, Hardworking
Age limit:
Minimum age: 22 Years
Maximum age: 28 Years (EST)
Education Required:
Graduation, Middle
Experience:
Relevant
Height:
163 -183 cm
Nationally:
Only Pakistanis can apply.
How to Join PAF Pakistan Air Force 2023?
Candidates who complete the above-required Eligibility criteria can apply online at www.joinpaf.gov.pk / Follow Step by Step below guide.
Complete Guide
Step 1:
Visit the official website of Pakistan Air Force: https://joinpaf.gov.pk/
Step 2:
Click on the "APPLY ONLINE" button located at the top left corner of the homepage.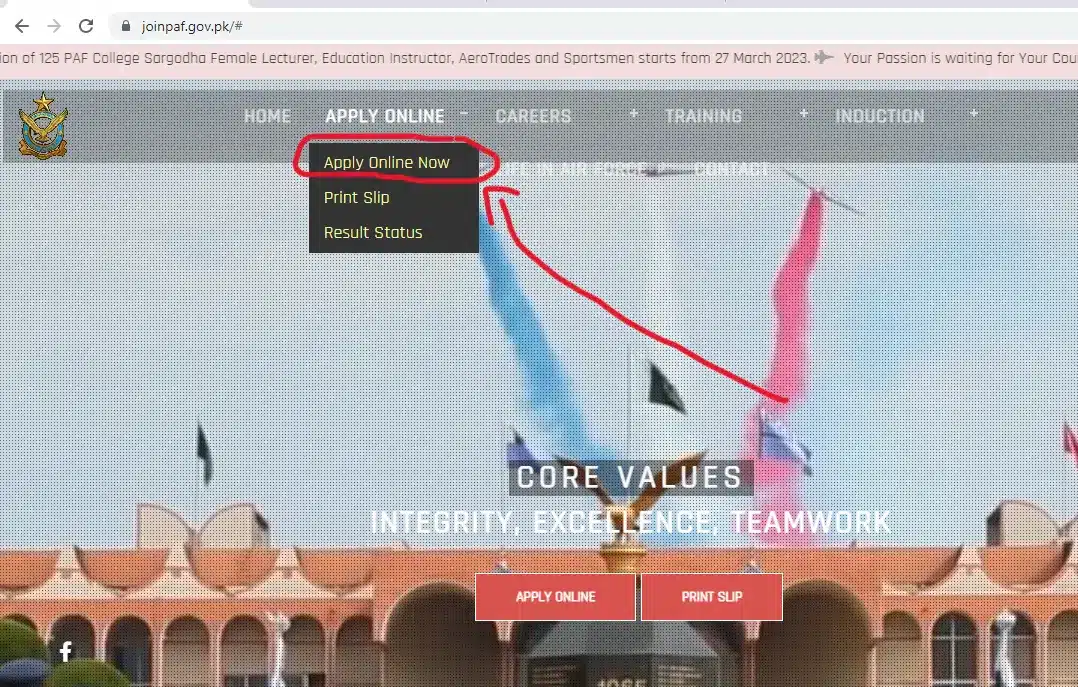 Step 3:
Fill in the required information.
Enter CNIC & then below the right corner "Continue to next step" Button.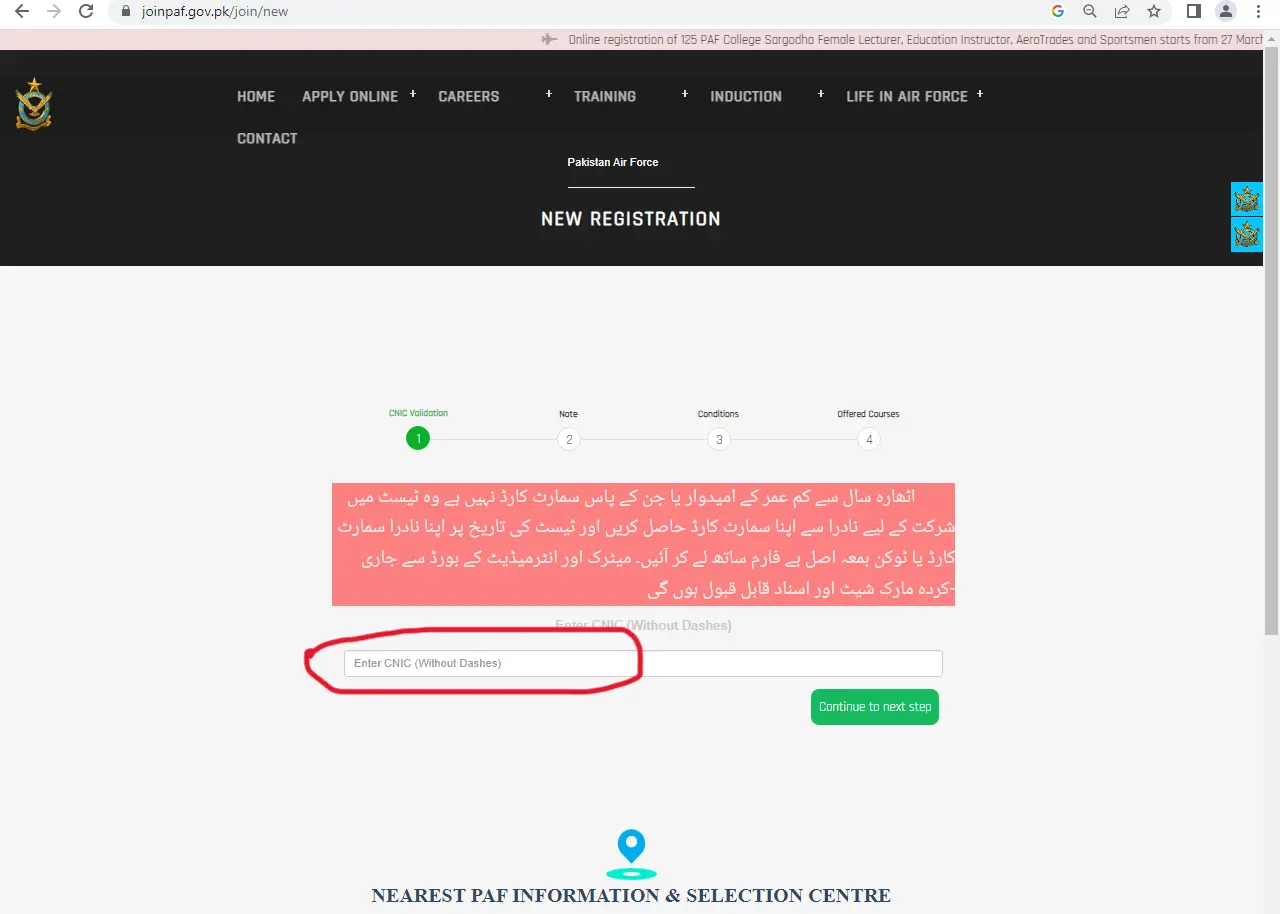 Read the Note & Click on the "Continue" Button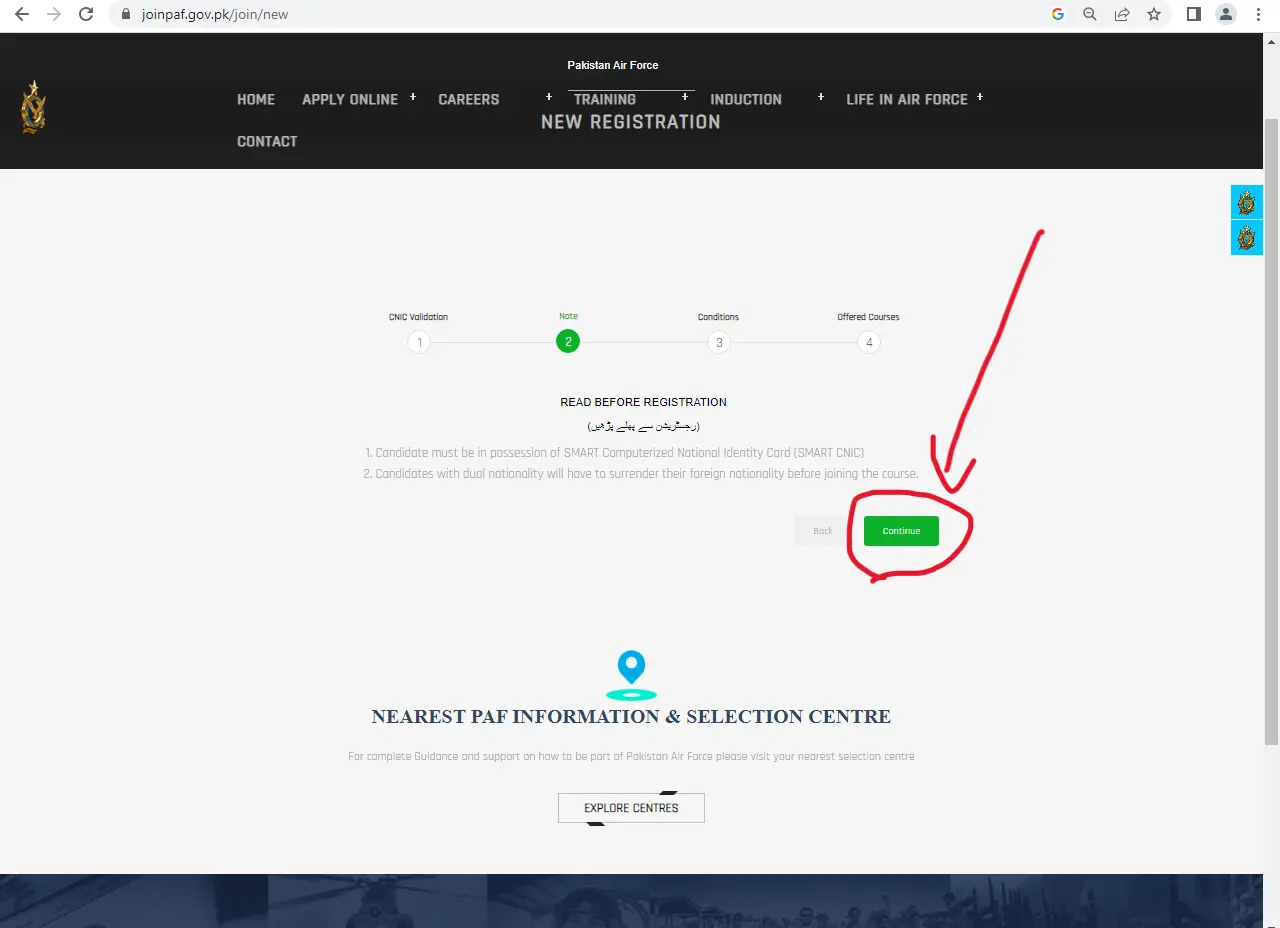 Read the Conditions & Click on the "Continue" Button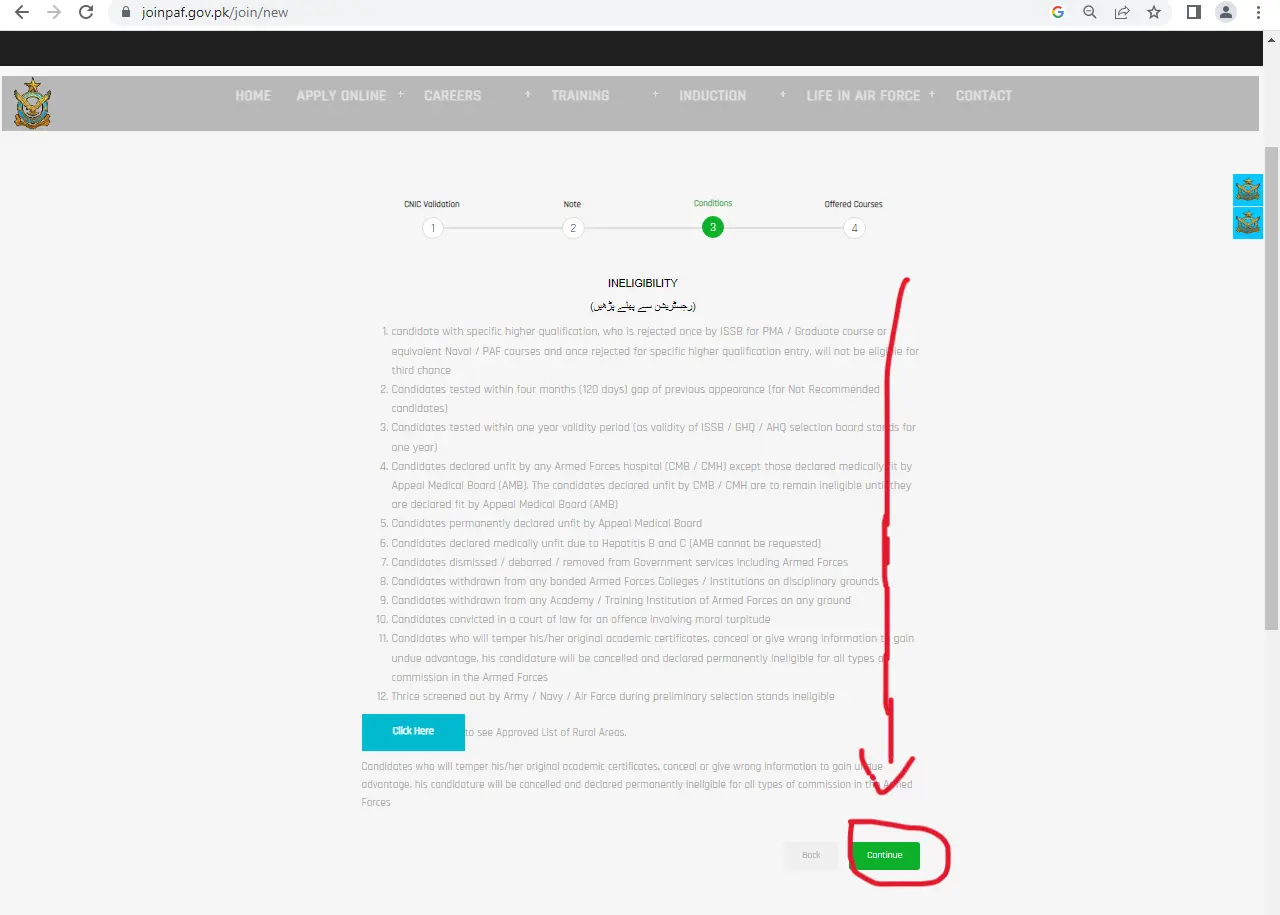 Now you can select any position regarding your qualification.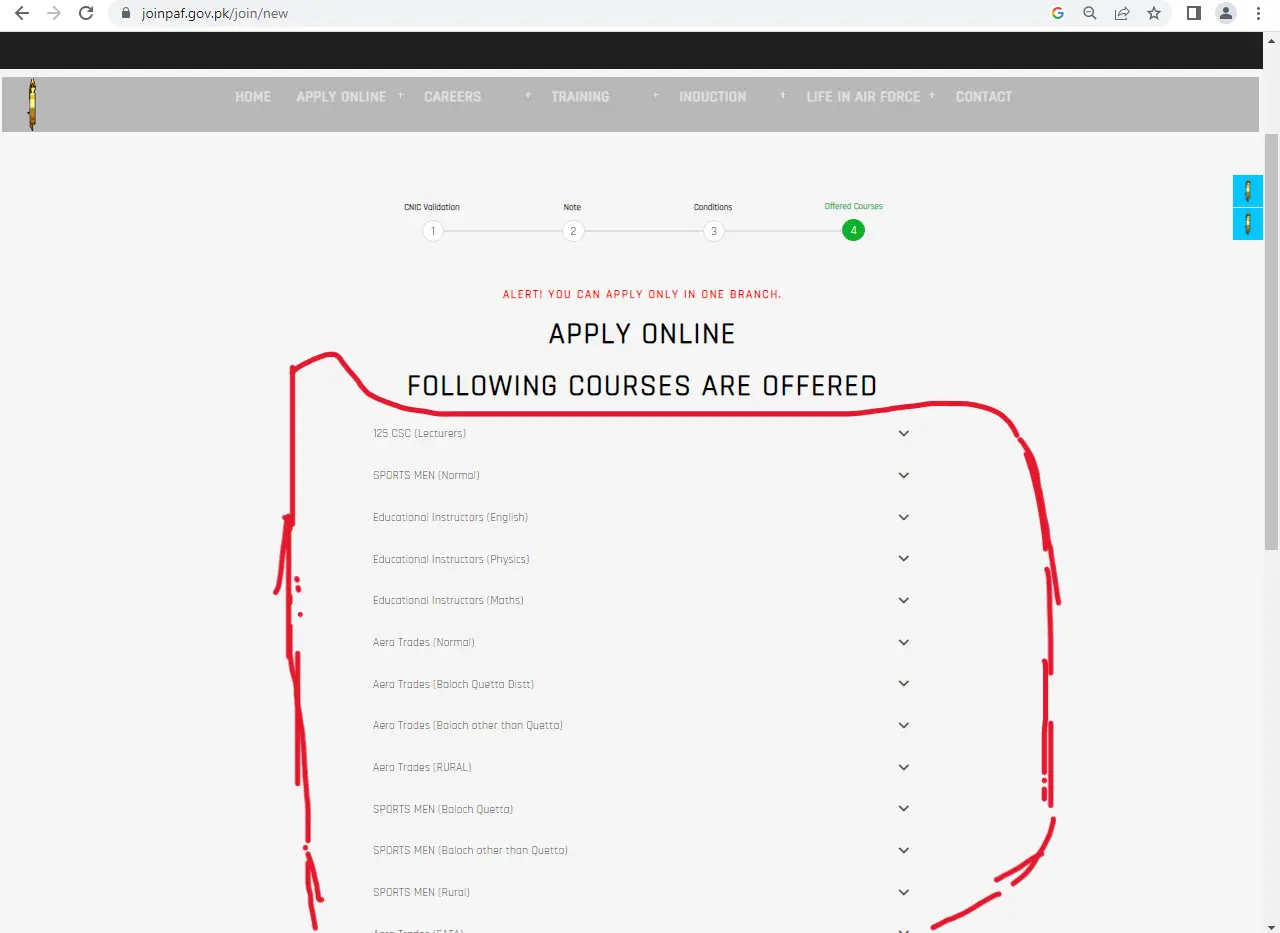 Step 4:
Fill up the "Course Details" Section.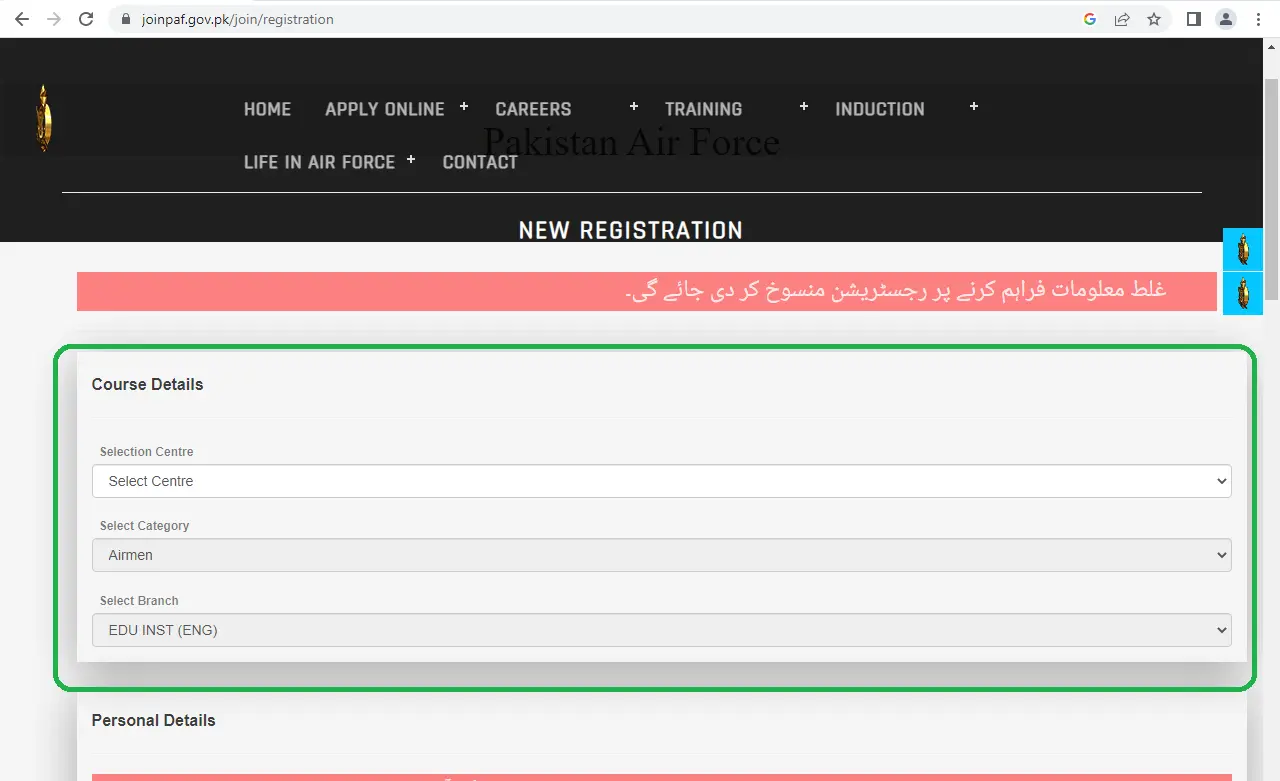 Step 6:
Fill up the "Personal Details" Section.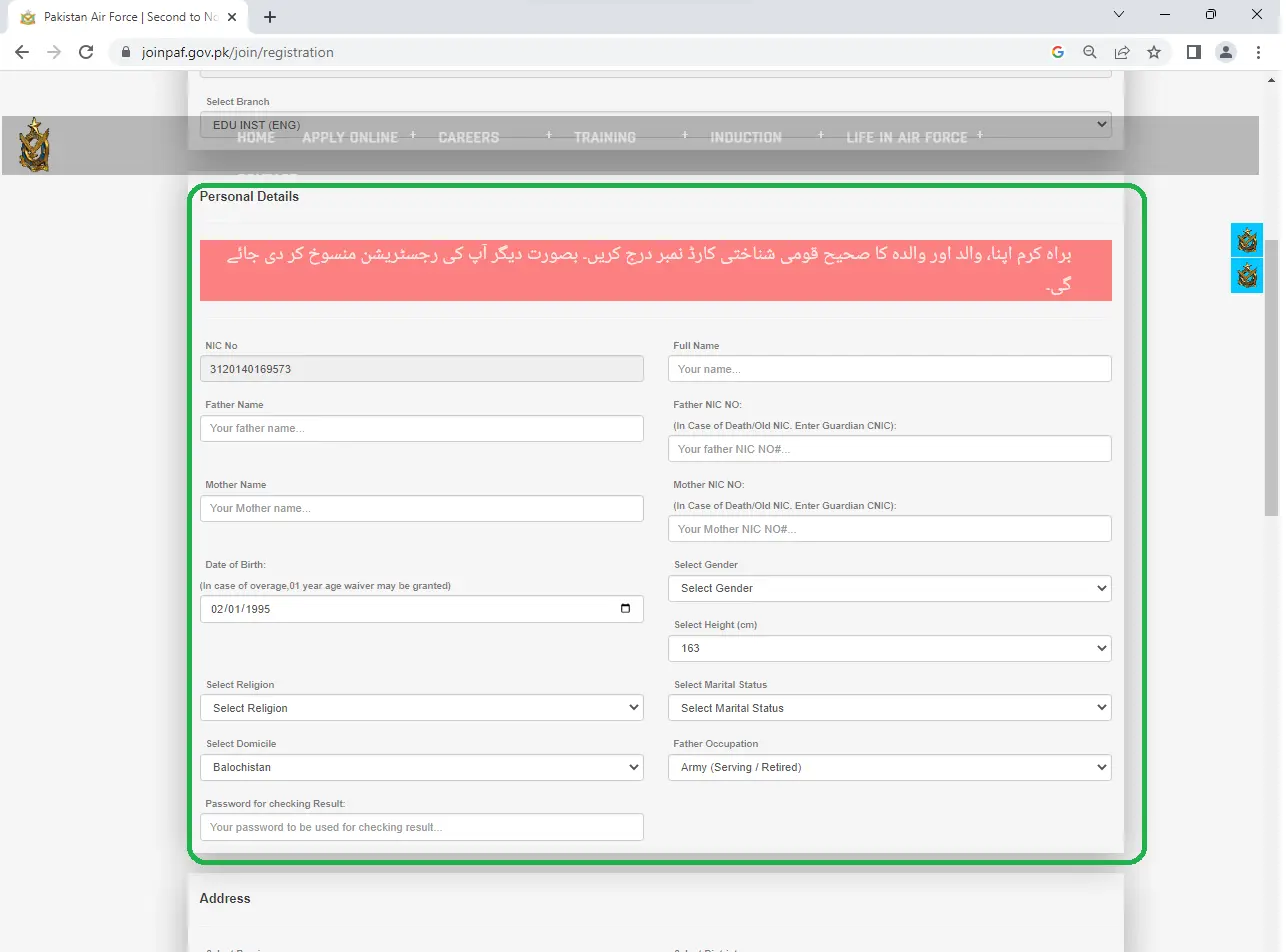 Step 5:
Fill up the "Address" Section.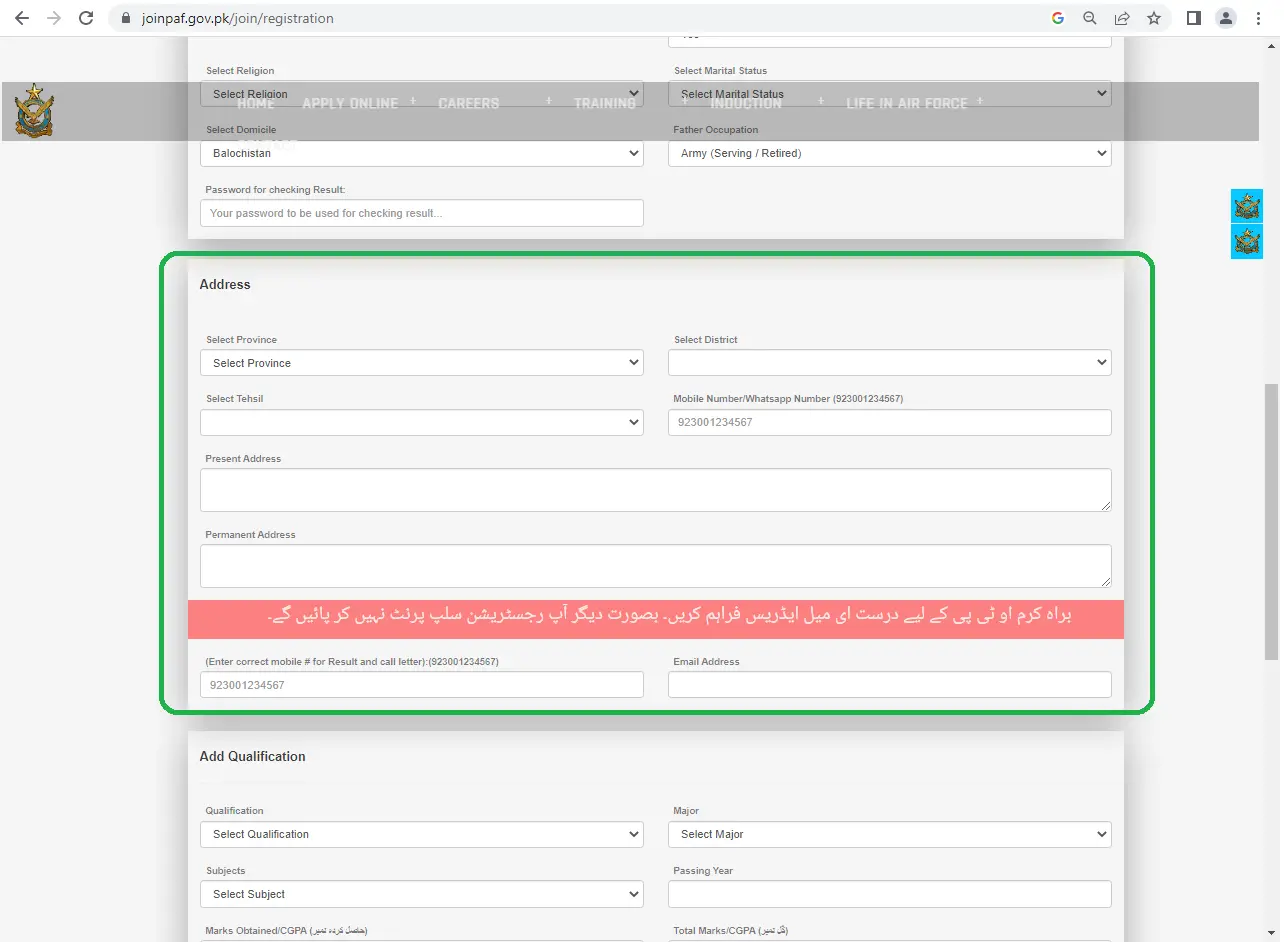 Step 5:
Fill up the "Add Qualification" Section.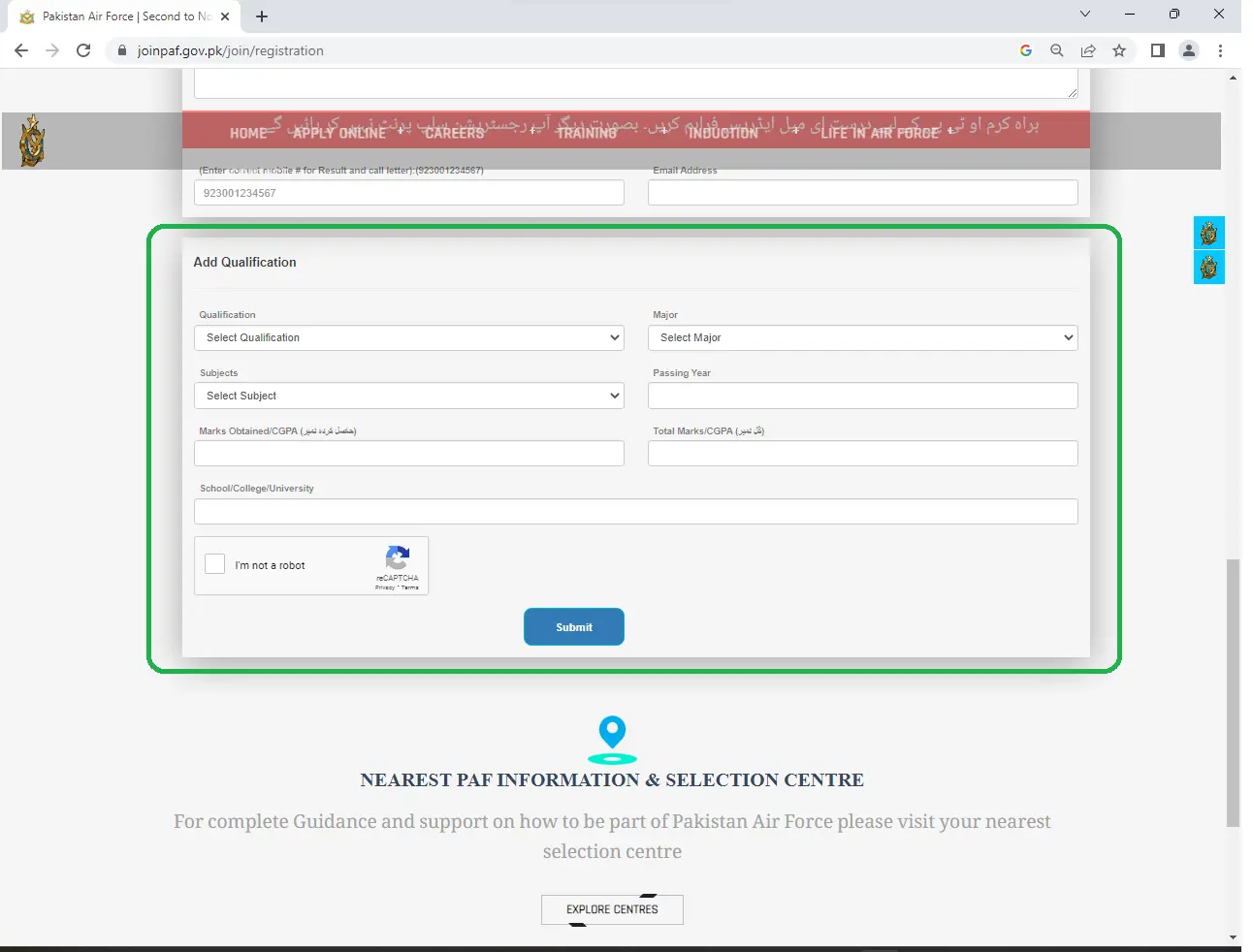 Last Step
Finally, click on the "Submit" button and your application has been submitted. Now you wait, you will be invited by PAF in a few days.
Offline Apply Guide
If you do have not mobile phone/internet connection then you can apply offline PAF. So, you can follow a complete offline step-by-step guide.
Step 1:
Collect All educational documents Such as
CNIC / B-form
Recent Photographs (4)
Detail Mark Sheet
Step 2:
Send all the above educational documents to the proper address of relevant PAF Selection Centres in Pakistan.
PAF Selection Centers are Available
Peshawar
Quetta
Rawalpindi
Sukkur
Mianwali
Abbottabad
Faisalabad
Hyderabad
Karachi
Lahore
Multan
DI Khan
Last Date for Apply Application
The last date for submission application is 19 August 2023.
Official PAF Advertisements
---
Join PAF 2023 – Latest Pakistan Air Force Jobs
To stay informed about job openings in the Pakistan Air Force, it is recommended to regularly check Jobss.pk, as it consistently provides the most accurate and up-to-date PAF job advertisements.
What Qualification is Required for PAF?
Age Limit: One of the key eligibility criteria for Pakistan Air Force (PAF) jobs is age. Candidates must be between 16.5 and 25 years of age at the time of joining, depending on the position they are applying for.
Educational Qualifications: PAF jobs require different levels of educational qualifications, depending on the position. For example, for commission through engineering, candidates must have at least a Bachelor's degree in engineering or technology. For commission through short service, candidates must have at least a Bachelor's degree in any field.
Physical Fitness: PAF jobs require candidates to meet specific physical fitness criteria, such as height, weight, and vision. Candidates must be at least 5 feet and 4 inches tall, with a weight in proportion to their height. They must also have a visual acuity of 6/6 in both eyes.
Medical Standards: Candidates must meet certain medical standards to be eligible for PAF jobs. They must be free from any physical or mental disorder that would impede their ability to perform their duties. They must also pass a medical examination conducted by PAF medical officers.
Nationality: Candidates must be Pakistani citizens to be eligible for PAF jobs. They must also have a valid National Identity Card for Overseas Pakistanis (NICOP) or Pakistan Origin Card (POC) if they are applying from abroad.
Background Check: Candidates must pass a background check to be eligible for PAF jobs. This includes a check of their criminal record and any previous military service.
Training: Candidates must be willing and able to undergo rigorous training to be eligible for PAF jobs. This includes basic military training, as well as specialized training for specific positions.
Commitment: Candidates must be willing to commit to serving in the PAF for a specific period, depending on the position they are applying for. This can range from a few years for short service commission to a lifetime for permanent commission.
The eligibility criteria for Pakistan Air Force jobs are quite stringent and include various factors such as age, educational qualifications, physical fitness, medical standards, nationality, background check, training, and commitment. Candidates must meet all of these criteria to be considered for a position in the PAF.
What are PAF civilians?
PAF civilians refer to the civilian employees of the Pakistan Air Force, who work in various non-operational roles such as administration, logistics, maintenance, and technical support. These individuals play a vital role in the functioning and support of the Pakistan Air Force.
How long is the PAF course?
The length of the Pakistan Air Force course can vary depending on the specific program or training being completed. For example, the initial training for new cadets at the Pakistan Air Force Academy is approximately 3 years.
This includes classroom instruction, physical training, and hands-on training with aircraft. Additionally, the Pakistan Air Force also has training for Pilots, which is around 18 months, and Technical training for maintenance and engineering that ranges from 6 to 12 months. However, the exact length of a course or program may vary depending on several factors, such as the individual's aptitude and performance.
Who is eligible for PAF?
Eligibility for the Pakistan Air Force is determined by age, education, physical fitness, and medical requirements. Candidates must be between 17 and 23 years old, have at least a Matriculation or Intermediate level education, pass a physical fitness test and medical examination, and be a citizen of Pakistan.
How can I apply for PAF after FSc?
You can apply for Pakistan Air Force after FSc by visiting the Pakistan Air Force website and filling out the online application form. You will also need to meet the required qualifications and pass the necessary physical and written tests.
Additionally, you may need to attend an interview and undergo a medical examination before being accepted into the Air Force.
What is the lowest rank of PAF?
The lowest rank in the Pakistan Air Force is Airman (Non-Commissioned Officer). This rank is held by the most junior enlisted personnel in the PAF and is equivalent to the rank of Private in the Pakistani Army and Seaman in the Pakistan Navy.
Is PAF private or government?
The Pakistan Air Force (PAF) is a government organization and is controlled by the Ministry of Defense of Pakistan.
Learn more about Pakistan Air Force: