Rescue 1122 Jobs 2023 Application Form www.rescue.gov.pk: The Emergency Service Rescue 1122 posted an announcement about this latest job on 20th August 2023. We have collected this Rescue Job Advertisement from the Daily News Newspaper.
Emergency Service Rescue 1122 is currently seeking dynamic, educated, and experienced people. Eligible candidates can apply for the following positions IT Officers, Lead Fire Rescuers, Office Assistants, Office Attendants, Security Guards, Shift In-charges, Station House In-charges, Technician Helpers, Transport Maintenance In-charges, Accountants, Auto Technicians, Computer Operators, Control Room In-Charges, DERT/Rescuers, Drivers, Emergency Medical Technicians, Emergency Officers, Fire Fighting Officers. Applicants apply for these above positions before the last date 12th September 2023.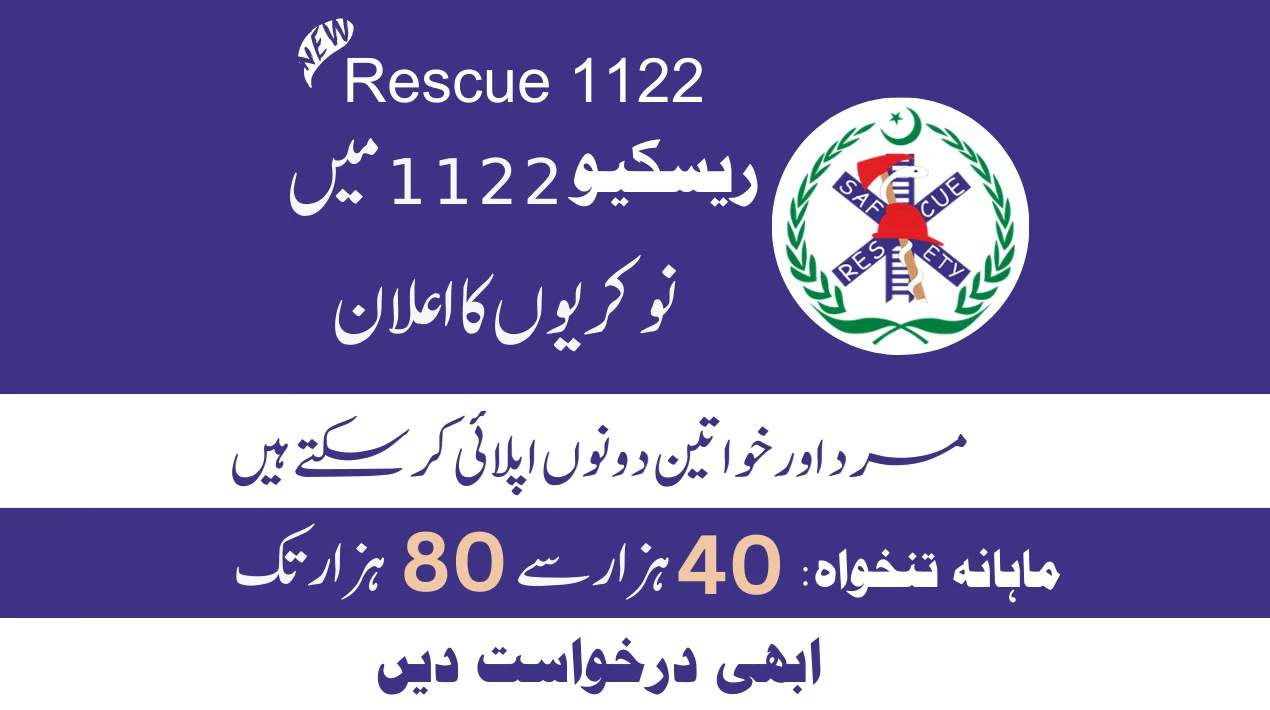 Rescue 1122 Jobs 2023 – Latest Advertisement
More Jobs in Pakistan
About Rescue 1122
Rescue 1122 is a free emergency service available 24/7 in Punjab, KPK, Balochistan, Sindh, Gilgit-Baltistan, and Azad Kashmir. You can call 1122 from any phone in Pakistan to request help with fire, rescue, or emergency medical services. Rescue 1122 was established in 2006 under the Punjab Emergency Service Act. Currently, this service is being led by Dr. Rizwan Naseer.
Vacation Positions
IT Officers
Lead Fire Rescuers
Office Assistants
Office Attendants
Security Guards
Shift In-charges
Station House In-charges
Technician Helpers
Transport Maintenance In-charges
Accountants
Auto Technicians
Computer Operators
Control Room In-Charges
DERT/Rescuers
Drivers
Emergency Medical Technicians
Emergency Officers
Fire Fighting Officers
Rescue 1122 Jobs Eligibility Criteria
Gender Required:
Males and Females are eligible
Skills Required:
Administration, Technical
Age limit:
Minimum age: 18 Years
Maximum age: 40 Years (EST.)
Education Required:
Middle, Matric, Intermediate, DAE, Bachelor, Master / Relevant Diploma
Experience Required:
Minimum: 01 Year (EST.)
Maximum: 03 Years (EST.)
Salary Package
Minimum Monthly Salary: 40,000 PKR (EST.)
Maximum Monthly Salary: 80,000 PKR (EST.)
How to Apply Online for Rescue 1122 Jobs 2023?
If you want to apply for the job, make sure you meet the requirements.
Follow these steps when applying:
Step 1:
Fill-up application form
Step 2:
Send the filled application form along with the original paid deposit slip of the test fee and all relevant documents to the following address.
Address: PTS Headquarters, Adeel Plaza, 3rd Floor, Fazal-e-Haq Road, Blue Area, Islamabad.
Last Date:
The last date for submission of the application is September 12, 2023.
Rescue 1122 Jobs Advertisement 2023